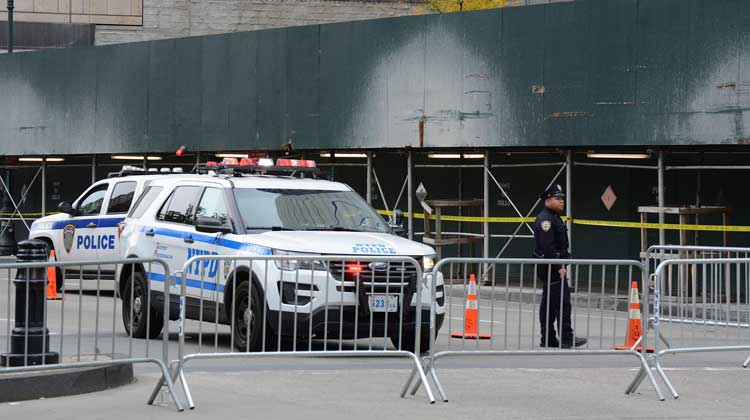 Sayfullo Saipov's Oct. 31 attack in lower Manhattan that killed eight and injured nearly a dozen more along a bike path revealed another marker in an ever-evolving picture of international terrorism. Reports of the attacker yelling "Allahu Akbar," the subsequent terror charge, and alleged connection to the Islamic State of Iraq and Syria create a familiar narrative—particularly with New York as its centerpiece—that for many are stark reminders of 9/11.
The incarnation in recent years of terrorists employing vehicles as their weapon of choice has added a particularly troubling context to such attacks. For some, it's an evolution that runs longer than the nearly two decades since 9/11.
Attorney Andrew McCarthy is a senior fellow at the National Review Institute and contributing editor to National Review. As U.S. attorney for the Southern District of New York, he was the lead prosecutor of "the blind sheikh" Omar Abdel Rahman and 11 co-conspirators convicted in the 1993 World Trade Center bombing. He also participated in the prosecution of terrorists in the U.S. embassy bombings in Kenya and Tanzania in 1998. McCarthy spoke to Homeland411 in the wake of the Oct. 31 Manhattan attack and offered his perspectives on the evolution of such attacks and the country's terrorism posture.
A decade before 9/11, McCarthy said they began to notice the existence of a cell in the New York area, and the terrorists' goal at the time was for "big, spectacular attacks" in order to draw the most attention to it. So the 1993 World Trade Center attack was just that—a Friday, noontime bombing of what represented the financial sector—indicating terrorists could strike at any time.
"What we privately among us prosecutor and investigator types used to remark on was, what are we ever going to do if these guys figure out that it would be just as scary for them to do the low-hanging fruit?" McCarthy said, referring to possibly smaller but violent possibilities such as a subway shooting or street-level attack.
"We always thought if you strung enough of those together, it would be just as terrorizing—or more terrorizing—and there's much less possibility of being captured," McCarthy said. "If somebody's going to get in a car and drive up on a sidewalk, there's not really much you can do about that, unless you have informants in the right places."
Today's reality is even more dangerous, he said, because the threat of the big attack is still there, but the low-level nature of attacks is occurring more frequently.
"We used to be able to say with confidence that the difference between a successful attack and an unsuccessful attack tended to be training," McCarthy said. "So the guys that were able to pull off stuff that worked and kill lots of people tended to be the people who had had paramilitary training, the camps—there were some camps here—but they were usually camps overseas."
Unfortunately, the training involved for more recent events is passing a driver's test and getting behind the wheel of a vehicle. "Now we're at the point where they're going for the low-hanging fruit, and you can't assure yourself that just because somebody hasn't had training that they won't be able to do something really horrible," McCarthy said.
Driving Influences
Even with the seeming simplicity of such attacks and their devastating results, the question of influence remains—and it's a topic around which politicians have tiptoed for more than 17 years. McCarthy said its really a problem.
"There still is a resistance—it's not as bad as it was 20 years ago, and certainly not as bad as it was during the Obama administration, or the impression that you would get during the Obama administration—but there's always been a resistance to accepting that there's a nexus between Islamic scripture and terrorism attacks," he said. "If you're going to be honest about it, there's an unmistakable, undeniable nexus, and it's supported by … 14 centuries of scholarship."
Particularly with the idea that an individual can be radicalized by the Internet, McCarthy said it's much deeper than that. "People [don't get] radicalized by the Internet, they get radicalized by the ideology."
He said the difficulty is that now for a generation there's been a denial of the ideological aspects that fuel terrorism.
"You have to win the argument that Sharia supremacism is a political ideology, not a religion," he said. "What you want to do is screen for Sharia supremacism, and let that be your vetting metric in terms of which Muslims get to come into the country and which don't."
Trump, Ideology, and Travel Bans
McCarthy said he wasn't a Donald Trump supporter or campaign surrogate, but still voted for Trump rather than Hillary Clinton. He added, however, that he was asked and provided advice on foreign policy, national security, and immigration to the Trump campaign, and his former boss Rudy Giuliani was a campaign adviser. He said he's not sure Trump knows what he means when speaking of radical Islam.
"I think sometimes he acknowledges in passing that there's an ideological threat, but most of the time when he says 'radical Islam,' he means jihad," McCarthy said. "When I say radical Islam, I mean Sharia supremacism, which accounts for the animating ideology."
When it comes to things such as travel bans, McCarthy said these are very important distinctions. He particularly noted the administration's efforts—and difficulty—early on. To McCarthy, the president's intentions were good, but subsequent litigation forced the justice department to defend itself against charges it was biased against Islam itself.
"That's why they've been behind the eight-ball from the first because they wanted to get this travel ban up the first week of the administration," McCarthy said. "They didn't think through all of the consequences of it, and as a result they've actually been hurting—and they don't intend to do this—but they've been hurting the cause of installing an actual effective screening system."
© 2017 Homeland411