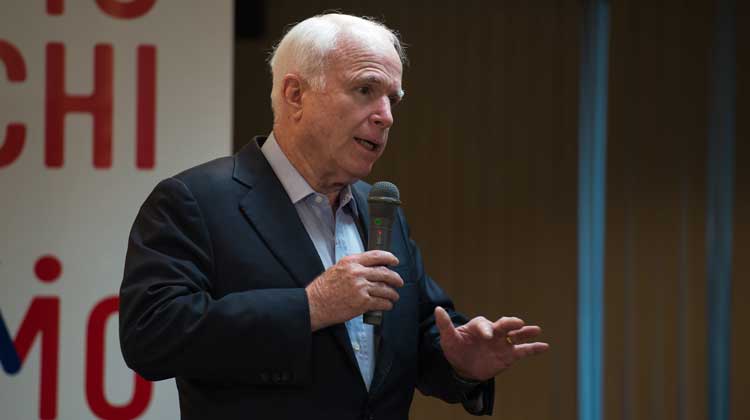 Sen. John McCain (R-Ariz.) announced Feb. 5 his intention, along with Sen. Chris Coons (D-Del.) to introduce new immigration legislation, and President Trump almost immediately rebuffed it.
"Our legislation, which already has broad support in the House of Representatives, would address the most urgent priorities of protecting Dreamers, strengthening border security, alleviating the backlog in immigration courts, and addressing the root causes of illegal immigration," McCain said in a statement released from his office.
Sending out a Twitter message late morning on Feb. 5, McCain said the bill would "serve as an important starting point towards reaching a bipartisan immigration compromise so we can end the gridlock & move on to completing a budget agreement that fully funds the military."
McCain's bill is a companion to a House bill introduced in late January by Reps. Will Hurd (R-Texas) and Pete Aguilar (D-Calif.).
CNN reported that the bill would "not immediately authorize the $30 billion Trump is seeking to build the border wall, instead greenlighting a study on border security needs."
Early morning on Feb. 5, Trump took to twitter.
"Any deal on DACA that does not include STRONG border security and the desperately needed WALL is a total waste of time," he wrote. "March 5th is rapidly approaching and the Dems seem not to care about DACA."
Five days before the president's State of the Union speech Jan. 30, the White House released its border security and immigration reform framework. It included a call for a $25 billion trust fund for a border wall, ending "catch and release," and emphasizing quick removal for felons, gang members, and those who have overstayed visas. The plan included a "10-12-year path to citizenship for DACA recipients, but also ended "chain migration" and the visa lottery.
After McCain's announcement CNN reported a White House official told them "it takes 'a lot of effort' to write up a bill worse than the Graham-Durbin immigration bill, but somehow 'this one is worse.'"
© 2018 Homeland411
Click here to subscribe to the Homeland411 weekly newsletter.