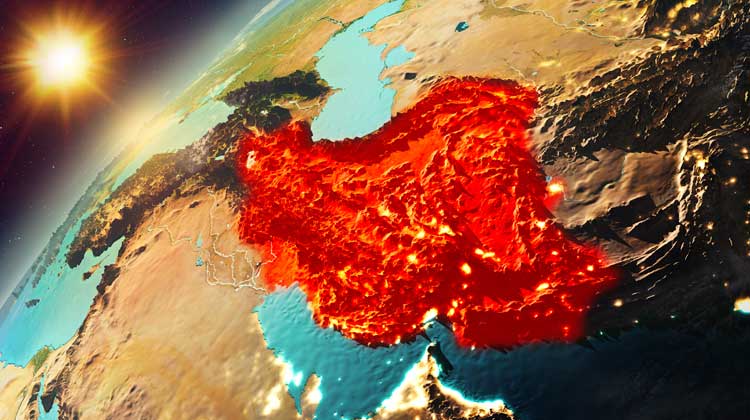 Protesters rang in the new year in Iran, criticizing what they call a corrupt government while President Donald Trump took to Twitter to show his support over the holiday weekend.
"Many reports of peaceful protests by Iranian citizens fed up with regime's corruption & its squandering of the nation's wealth to fund terrorism abroad," Trump tweeted on Friday. "Iranian govt should respect their people's rights, including right to express themselves. The world is watching!"
The uprising began Dec. 28, with protests reportedly centering on high fuel and food prices, as well as government corruption. Early reports spoke of a number of arrests. By Sunday, Iran had blocked access to social media. By New Year's Day, Iran state television was reporting 12 protesters killed, according to Voice of America.
"The entire world understands that the good people of Iran want change, and, other than the vast military power of the United States, that Iran's people are what their leaders fear the most," Trump tweeted Saturday.
He ratcheted up his comments on Sunday: "Iran, the Number One State of Sponsored Terror with numerous violations of Human Rights occurring on an hourly basis, has now closed down the Internet so that peaceful demonstrators cannot communicate. Not good!" he wrote.
Vice President Mike Pence took to Twitter on Monday as well. "As long as @RealDonaldTrump is POTUS and I am VP, the United States of America will not repeat the shameful mistake of our past when others stood by and ignored the heroic resistance of the Iranian people as they fought against their brutal regime," Pence wrote. "The bold and growing resistance of the Iranian people today gives hope and faith to all who struggle for freedom and against tyranny. We must not and we will not let them down. #IranProtests."
The protests can be seen as a test for the Trump administration, not unlike the Iranian Green Movement in 2009, where protesters rallied against the contested election of Mahmoud Ahmadinejad.
Philip Gordon, senior fellow and the Council on Foreign Relations and assistant secretary of state during the Obama administration, said he also wants a weaker Iranian government, but wants Trump to zip it when it comes to protests.
"[L]et me offer Mr. Trump some unsolicited advice: Keep quiet and do nothing," he wrote in an op-ed for The New York Times." "I realize this advice goes against the president's instincts, given the centrality of Iran to his agenda and his unquenchable desire to claim credit for anything positive that happens on his watch."
Gordon said if Iranians want to change regimes, it won't be because of Washington influence.
"[I]t has become an article of faith among President Barack Obama's critics that in 2009 he missed a golden opportunity to do just that, when many Iranians took to the streets after a disputed election result," Gordon wrote. "But it was never clear what difference American rhetorical support would have made then, other than allowing the Iranian government to depict the protesters as American lackeys, giving the security services more of a pretext to crack down violently."
Stay tuned to Homeland411 for analysis and updates of the evolving situation in Iran, and what it means for the security of the Middle East as well as the United States.
© 2018 Homeland411